As October drew to a close, I came to the conclusion that I had enjoyed Boatober so much that I wanted to keep going! Nikki and I have been chatting for a while about the possibility of starting our own challenge on Instagram, so we went for it – keeping our daily sketch momentum going! More on that at the end of this post. For now, here is a video I put together showing the full 31 days of sketching for Boatober
How a 30 day challenge helped me get back into a daily sketching habit
I really think the daily challenge has pushed me out of my comfort zone, and encouraged me to try scenes I never normally would.
The community aspect in Instagram, with other artists sketching and cheering you along, is motivating and fun!
Having the image selected for me, cut down a lot of the excuses/time wasted trying to think what to draw
Drawing every day helped my confidence grow, which spilled over into being more open to drawing other things that day – I have done more sketching outside/location recently, and I am sure it is due to the daily sketching challenge.
Starting a new challenge – #farmvember2023
So, having worked so hard, and enjoyed the Boatober challenge so much, Nikki and I decided to keep the momentum going and start our own challenge! Both living in the countryside, on farms, we have a lot of farm related images on our phones, so have pooled a selection together and posting them daily to Instagram.
We are trying to have a nice mix of animals, machinery, country views, buildings/barns, and have been so delighted with how others are joining in with the #farmvember2023 challenge!
Here are my sketches for the first five days!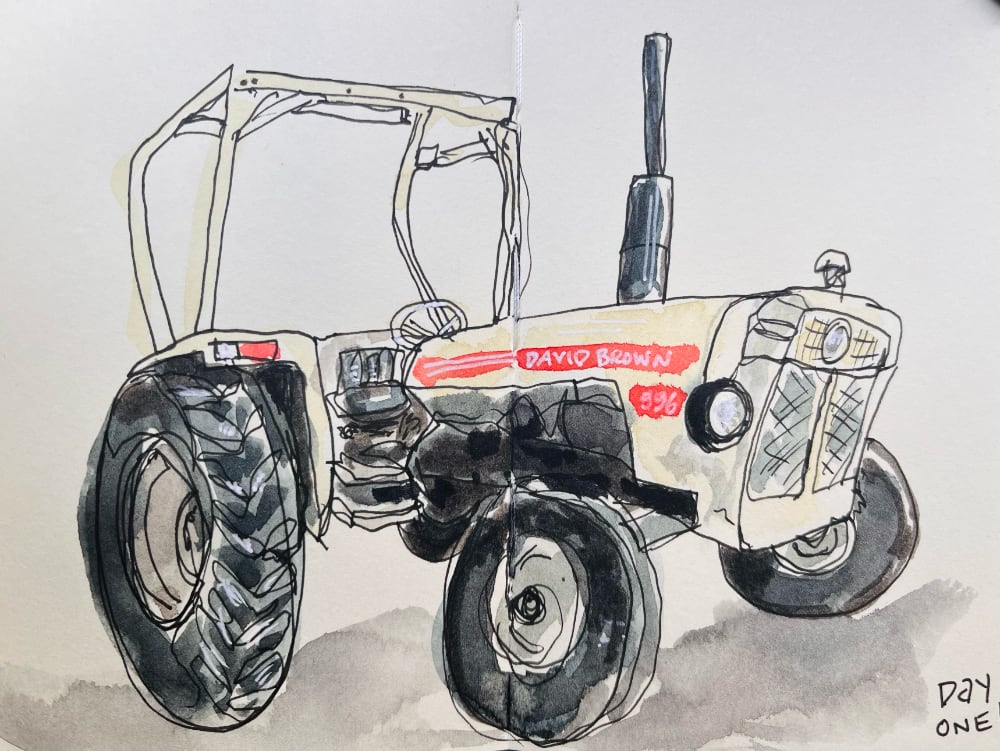 Here is a short video of me sketching day 5 this morning – the very glamorous side of farming – a dung spreader!
I have been enjoying using my Derwent Graphitint paints this week – I often paint first then add the line work, so thought I would film the process.
We are looking forward to another week!