I recently joined Koosje Koene's Patreon, as I have been such big fan of hers since I started sketching again, and was really delighted to see she was hosting an online zoom workshop in June. The topic was sketching greens, since everything is so green this time of year, and it is often challenging to recreate greens in watercolour – so I registered, hoping to pick up a few tips along the way.
Sadly, I could only watch the recording, as the live timing clashed with the school run, but I sketched along in real time, and really enjoyed it!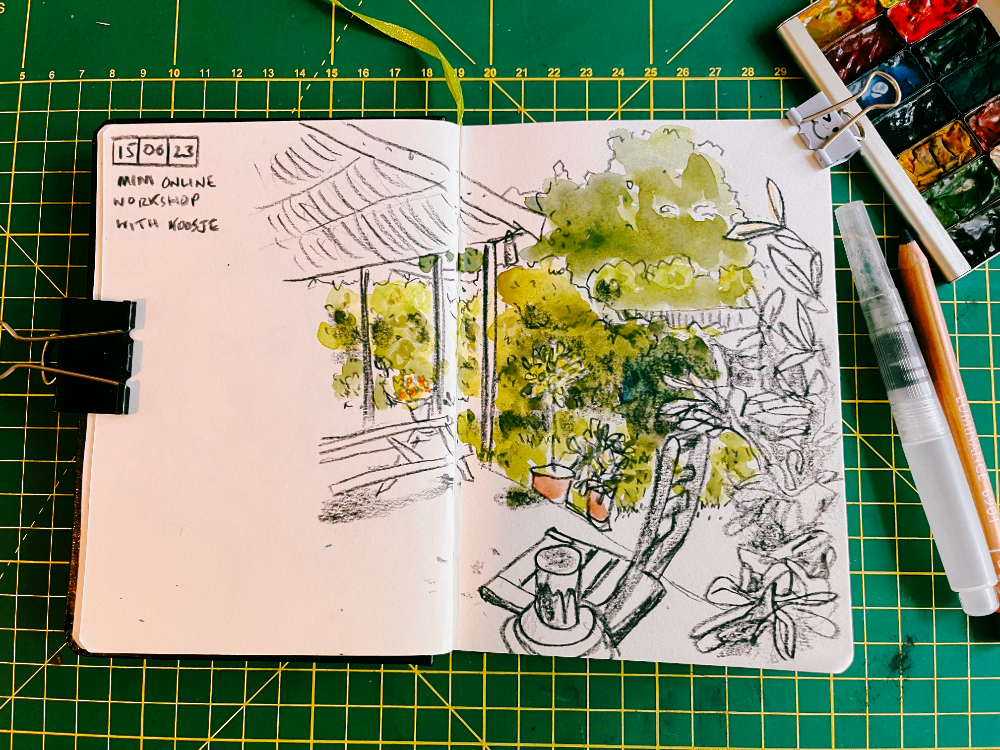 This first sketch I made in my Seawhite of Brighton A6 sketchbook. The paper is about 130gsm, and not designed for watercolour, but takes a light wash. I did as Koosje did and used a colour pencil for the line work. I do sometimes enjoy doing this rather than using ink. The line can be sharp or soft, and you can shade as you go. We then moved onto painting the greens, paying attention to the shadows, but not worrying too much about the colour matching.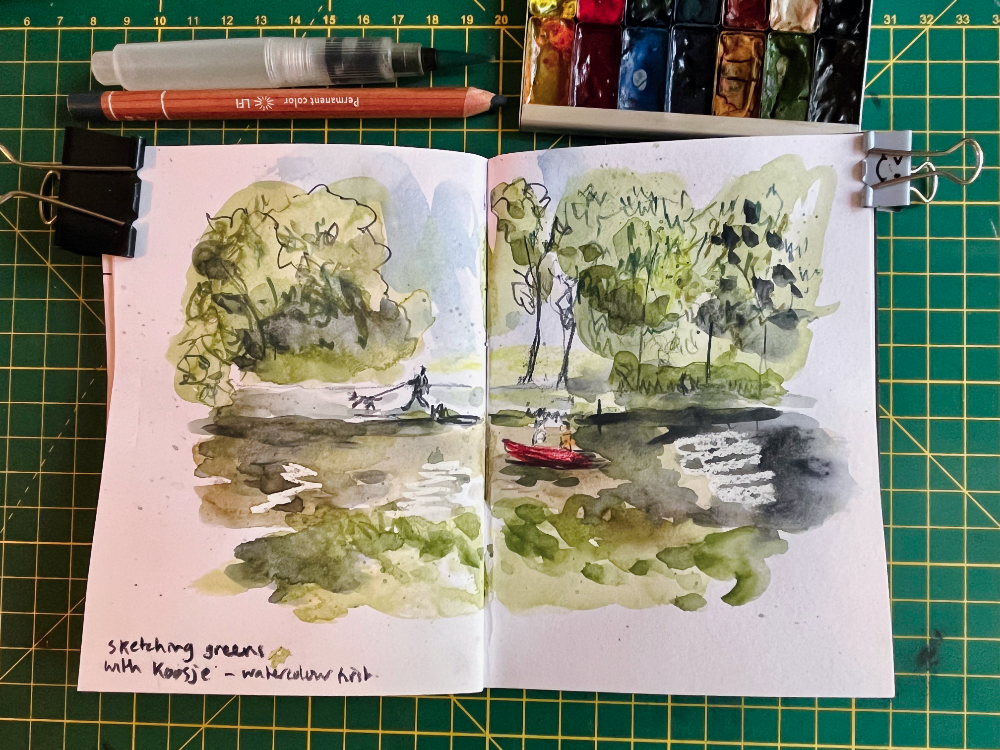 The second sketch ran on from the first, while we waited for the first to dry. I used my Jackson's Studio sketchbook for this; it has a similar paper, whiter and slightly thicker at 140gsm. This time we painted with colour first, then added the line. Koosje was really loose and free with the painting, and it was fun to try some wax resist for the water highlights. I think I was heavy-handed with the wax resist, but a good learning at least!
I really love being able to join in on these types of online sketching classes – it is great to be a part of a group of fellow creative enthusiasts, and to learn from mentors that live far away. I will definitely join Koosje for more zoom calls in the future, and may have to look at upping my membership tier on Patreon, so that her monthly zoom calls are included as part of the price.
Materials used:
Pocket palette filled with Daniel Smith, Jackson's Art and Schmincke Watercolours
Water brush
A6 sized Jackson's studio Sketchbook
A6 sized Seawhite of Brighton travel journal sketchbook
Luminance pencil – Paynes Grey
White Caran D'Ache Neocolor I wax pastel