This week has been a busy week with the boys home for their last week of the Easter holidays, but I have managed to squeeze a fair bit of time into sketching and learning time.
I have continued to work through Liz Steel's SketchingNow watercolour course, and have technically finished, although I still have a couple of assignments to work through, as well as some bonus material she has recorded on Pigments.
There is such a lot of information to process in this course, I am definitely going to have to dip back in and rewatch and redo some of the assignments, just to help it all sink in! I am very tempted to take the foundations course, and perhaps her Sketchbook design course once that re-runs later on this year. See my post summarising week one of the course here. I will have to carry on and summarise the rest of the course soon! It's quite a useful exercise to go back through and see what I learned, I feel it is a bit like revision! But more fun 😉
I discovered the fabulous Sneaky Artist Podcast, and felt inspired listening to Liz Steel, Paul Heaston and Suhita Shirodkar. I really recommend subscribing, Nishant is a great interviewer and there are some fascinating conversations with some very eminent urban sketchers on his episode list! I am currently working through listening to artists I have heard of and follow, but will look forward to, and enjoy discovering some new artists from there, I am sure!
One of the takeaways from the podcast with Liz Steel, was highlighting the benefits of sketching a familiar subject regularly, in Liz's case, it's her teacup, or morning coffee. I agree that sketching something regularly can have a lot of benefits.
Nishant challenged his listeners at the end of the conversation, to commit to making a drawing of the same thing every day for a week. After hearing this, I realised I had already drawn my son Tommy, a couple of times at breakfast, so it made sense to me to just continue doing that for the rest of the week!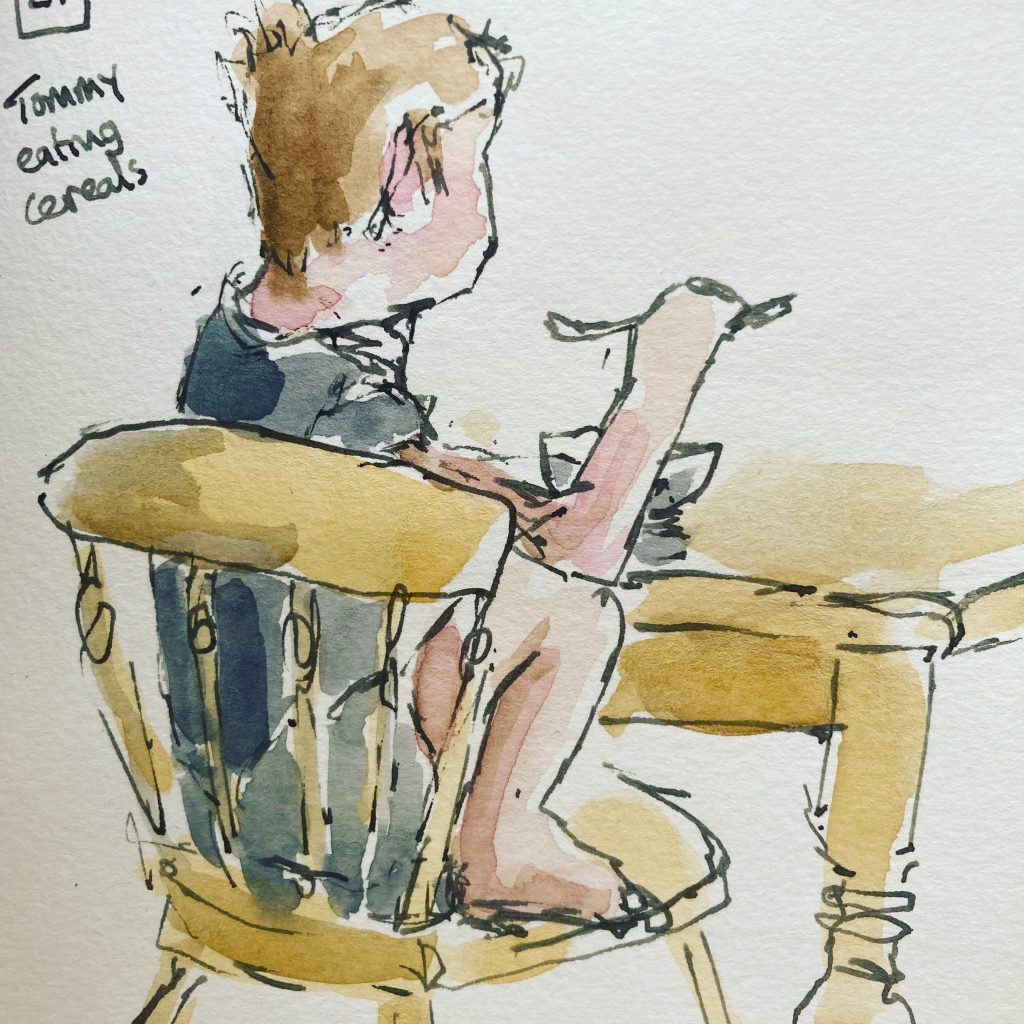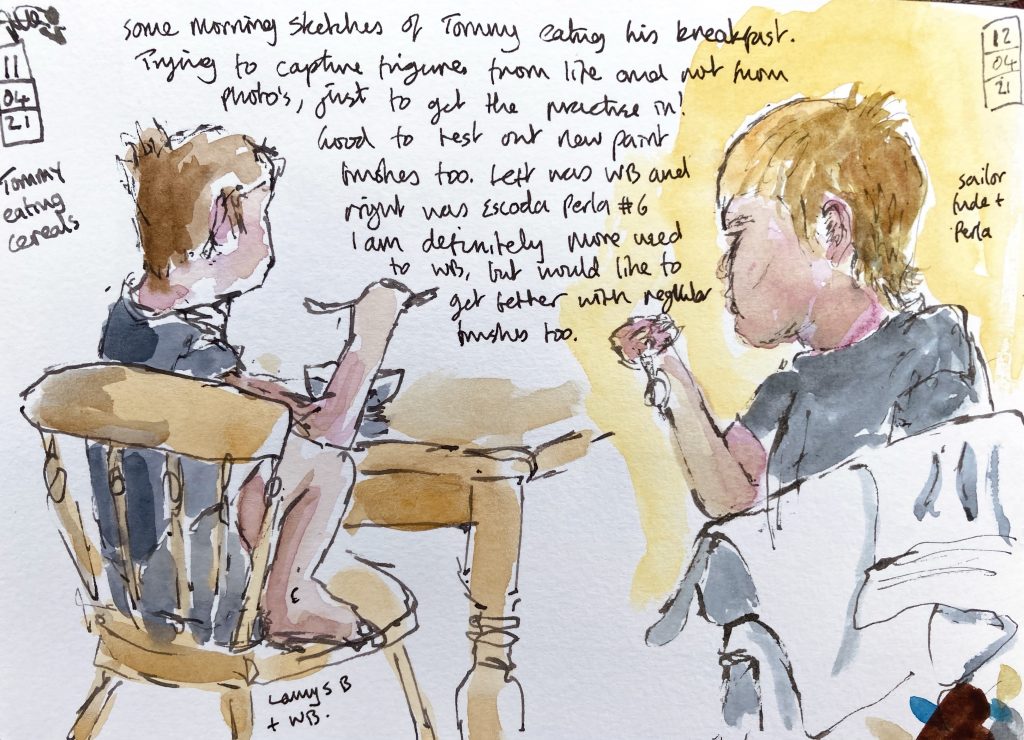 I made this sketches in both my regular sketchbook and my watercolour sketchbook, whatever I had to hand. I used different pens, and brushes – just to try out different things.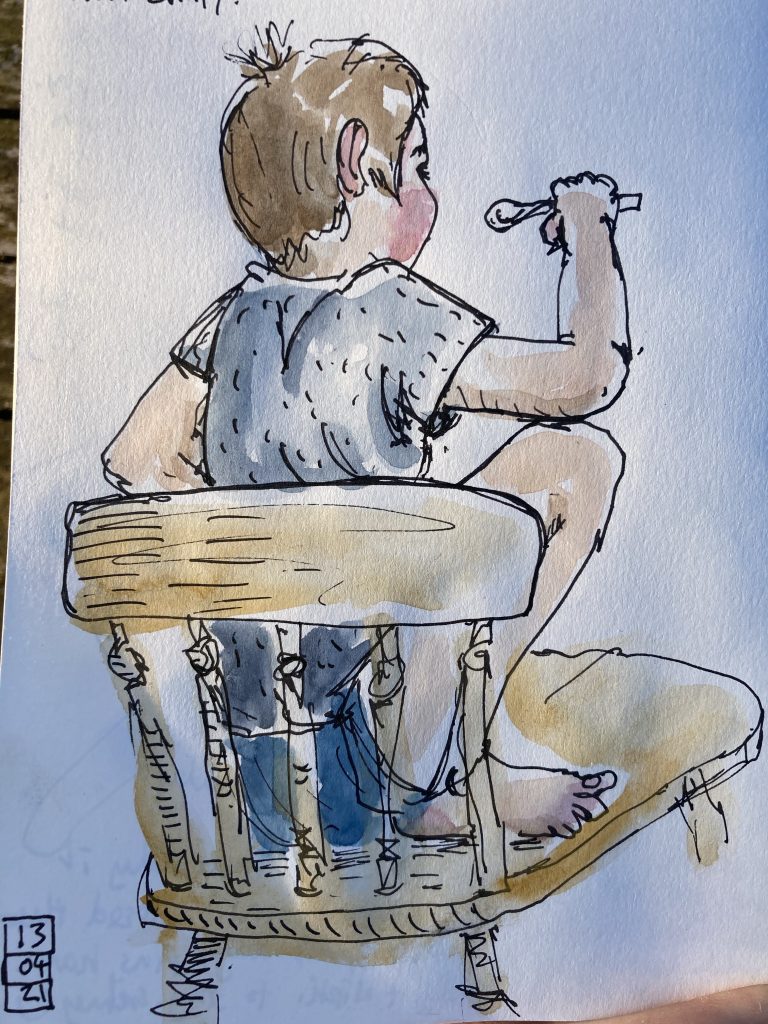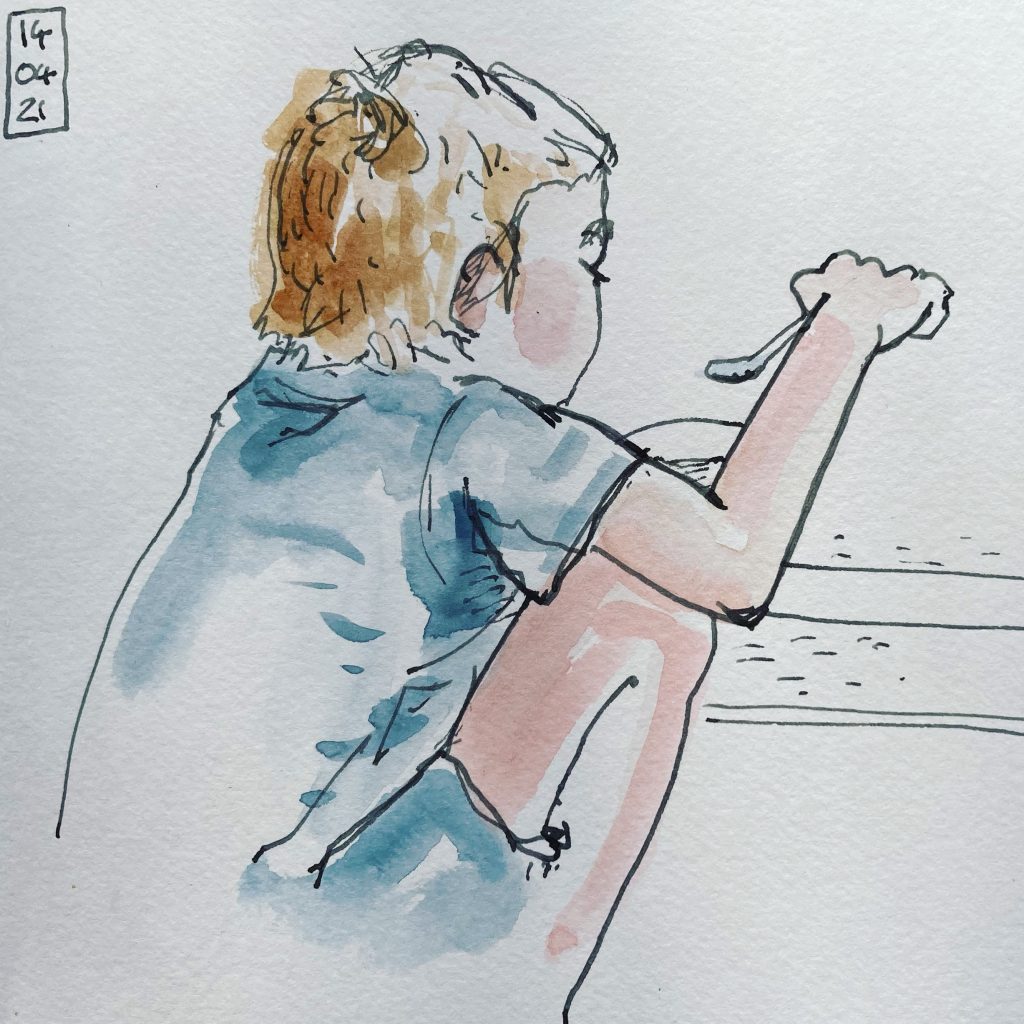 day 4 felt like a bit of a breakthrough. I was really trying to use confident, but limited line and colour, and feel like this was getting much closer to my expected outcome. I sketched this in my watercolour sketchbook, with my trusty waterbrush, so perhaps the familiarity of the waterbrush helped. I am determined to carry on getting used to my new travel brushes, but maybe not first thing in the morning, when i am already sketching something challenging, as well as getting used to watercolour paper – one thing at a time!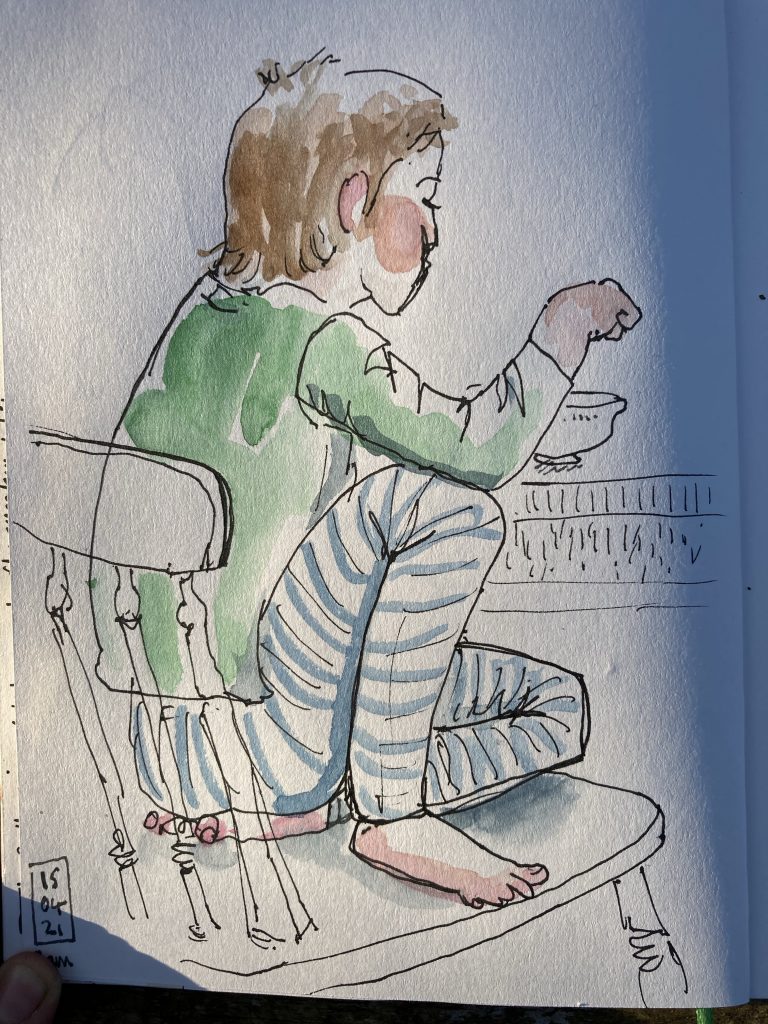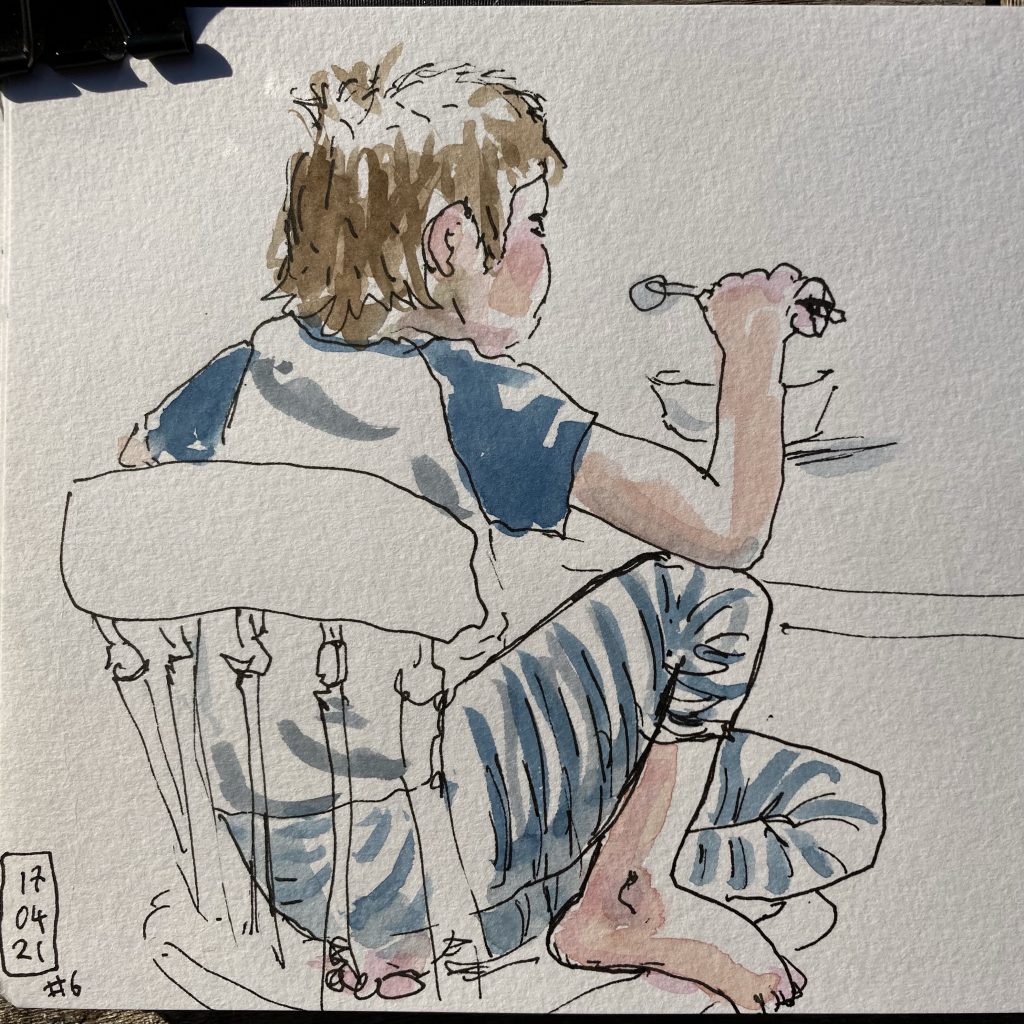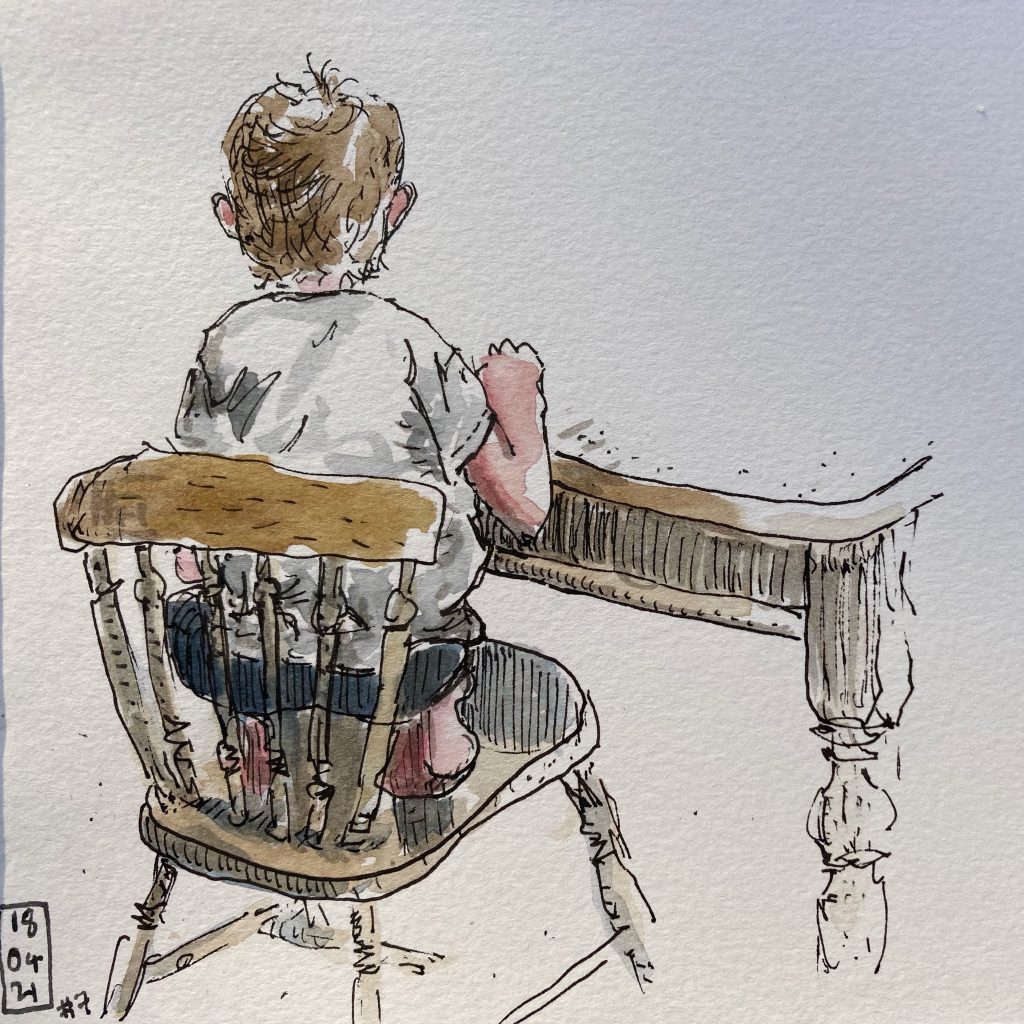 I actually really love all of these sketches. They will be something I can look back on in the future, when Tommy is a grown up, and remember these times. Hopefully he will be sitting in a chair properly by then too! 😉
The last picture I am especially happy with, as I can really tell it is Tommy by the shape of his head and his posture. I had also started to get the hang of stopping, and waiting for him to return to a position once he had taken a mouthful, so the sketch became a little less rushed, and panicked!
Reasons to sketch the same subject every day:
It can take away the dilemma of what to draw – just draw your regular subject if stuck!
It helps you familiarise yourself with a particular subject, so it becomes more familiar to draw (although I would say, never easier, as our expectations and skill increase).
It helps you push yourself and experiment – it's just your daily sketch after all, mix it up a bit!
It gives you a commitment to show up and make the drawing every day
I will look at continuing with this practise, perhaps changing the subject on a weekly basis. It won't be practical for me to carry on sketching Tommy at breakfast during term time, as I will be too busy rushing around getting packed lunches and uniforms ready! I will definitely try to though, it doesn't really take that much time, so we will see!