This Summer seems to be all about taking on little art challenges! As well as the Tiny Print Tuesday Challenge, and the International Nature Journaling Week that I took part in, I have also joined the lovely Don's (@the.curious.sketcher on instagram) tiny sketch challenge for July. I am really enjoying the sense of achievement from joining in and seeing what other artists are doing too!
Here is how Don describes the Quick Tiny Sketch of the Day Challenge:
What is this challenge? Quick Tiny Sketch Of The Day. It's an opportunity to create or keep a daily sketching habit. If you want to join, for the month of July, make a sketch that is:

🏎️ Quick, however you define quick. For me, 30min or less
⚛️ Tiny, however you define tiny. For me, the size of my palm or less
🗓️ Daily. Sketch and post every day
🤪 Fun!
For the first week, I took inspiration from my sister, Nikki who had been making quick sketches of cars! I felt a quick tiny sketch would be a great way to practise drawing cars, and it was! Still very challenging, trying to get the angles and the perspective right – but I really focussed on just trying to relax and get a loose and quick sketch.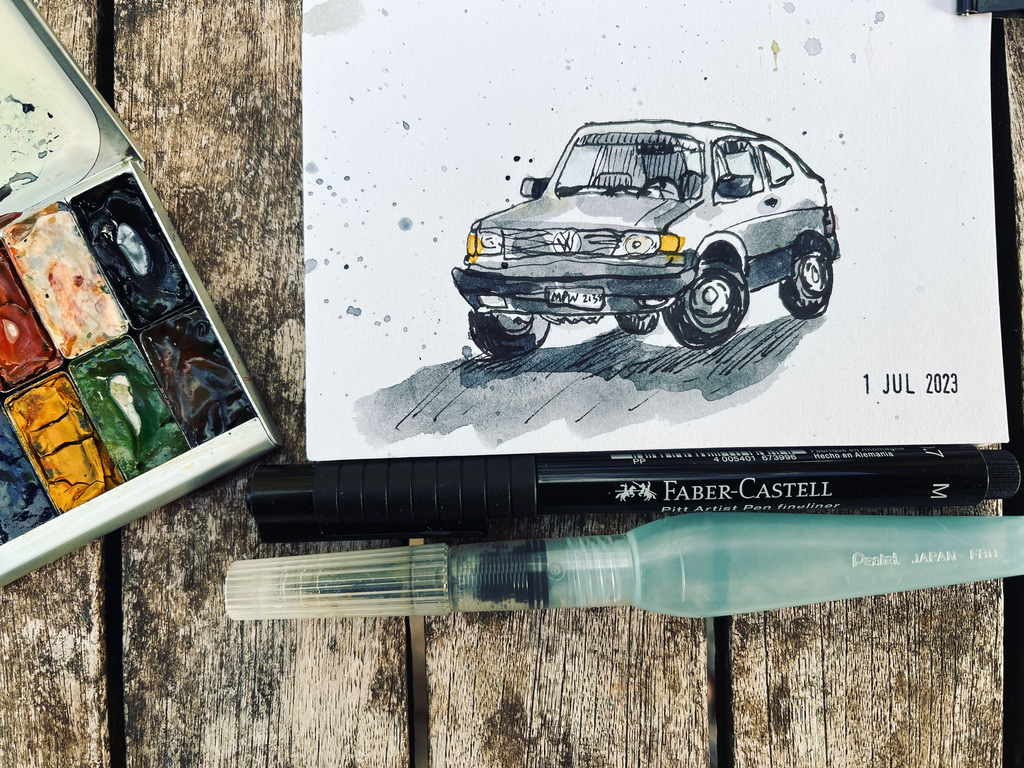 Materials Used
I mostly used ink and watercolour for these sketches, although for day 7 I tried out using colour pencils, and day 9 I used a Neocolor 2 for the yellow car. This was mostly because it was a clean yellow, and the yellow in my watercolour pan is not clean! I also used my ArtGraf water soluble graphite for the grey colour of the E-Type Jaguar on day 5 and liked this effect.
Part of the fun of this challenge is trying out different materials, but my go to is still ink and watercolour – you just can't beat it 🙂
I am sketching in my tiny sketchbook, which is a cut down A6 studio sketchbook from Jackson's art. I cut it down to fit in my Passport sized Traveler's Notebook, as it is my out and about sketchbook, and a perfect size for a tiny quick sketch!
Day 10 onwards
On day 10, I went camping with my boys, so normal service was slightly interrupted with all the fun of camping! I did manage to create a couple of quick sketches while there, but took a break from my cars to capture the camping experience – which will be my next blog post! Now I am back home, I am wondering what else to sketch – I may do a different theme for each week! I will post back here soon with an update of how I am getting on as the month closes out.
Happy sketching!