One of my goals this year, is to have printmaking become a regular part of my creative practice. Having been on a course last year to learn all about printmaking techniques, I learned so much and was excited to put it into practice and push myself further. However, life seems to have get in the way as usual! My lovely Home Etching Press, and my printmaking equipment has been gathering dust in my studio for months now!
So when I found @flintcat's Instagram printmaking challenge 'tinyprinttuesday' hashtag, I was inspired to get going and try to make this an achievable weekly challenge for myself!
Why Take on a Weekly Challenge?
A big part of my not getting into printmaking regularly is that it is new, and therefore very different to my usual practice of sketching/painting/journaling. These creative habits were also a bit hit and miss at first, due to it not being a habit or something I regularly made time for: it takes time and commitment to get into a practice.
Another barrier, for me at least, is the 'not knowing what to make' dilemma. So, a weekly challenge will actually force me into having to make something and not just give up! A tiny print is achievable – it won't take a huge amount of time. Each block I carve, and print I make will improve my skills and build confidence. I will have a collection of tiny blocks, or stamps – to use in my sketchbooks and journals!
My First Tiny Print Attempt
My first effort is from a little doodle robot I made on an offcut of paper, which I use as a little bookmark in my traveler's notebook! I looked at it and thought it would make a cool little stamp, so I set about making it happen!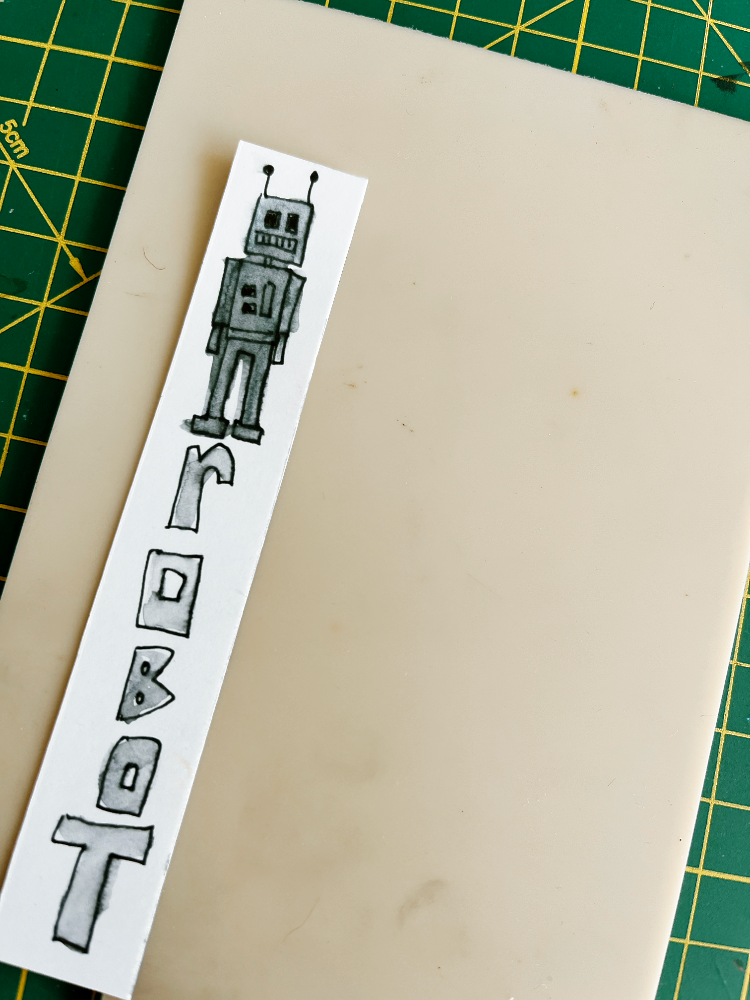 Step one, was to trace the design onto some tracing paper. Then simply turn the tracing paper over onto a scrap of soft cut Lino (all I had lying around) and re draw over the lines on the back of the tracing paper. This transfers the traced pencil lines onto the Lino block.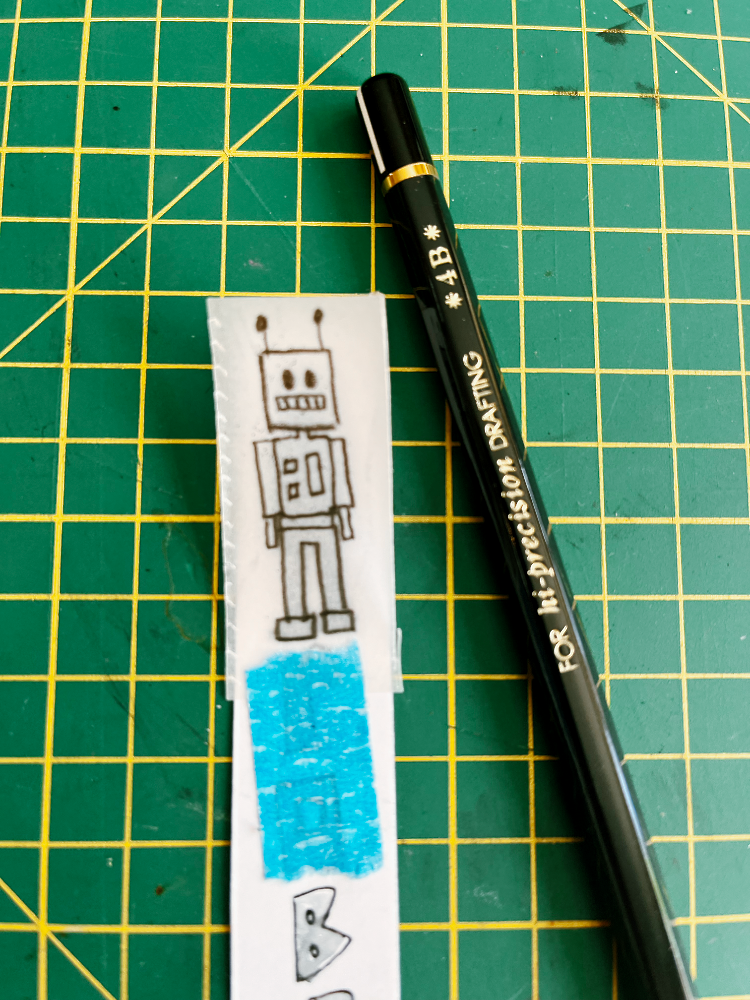 Above is my traced robot – you can see how small it is next to my pencil!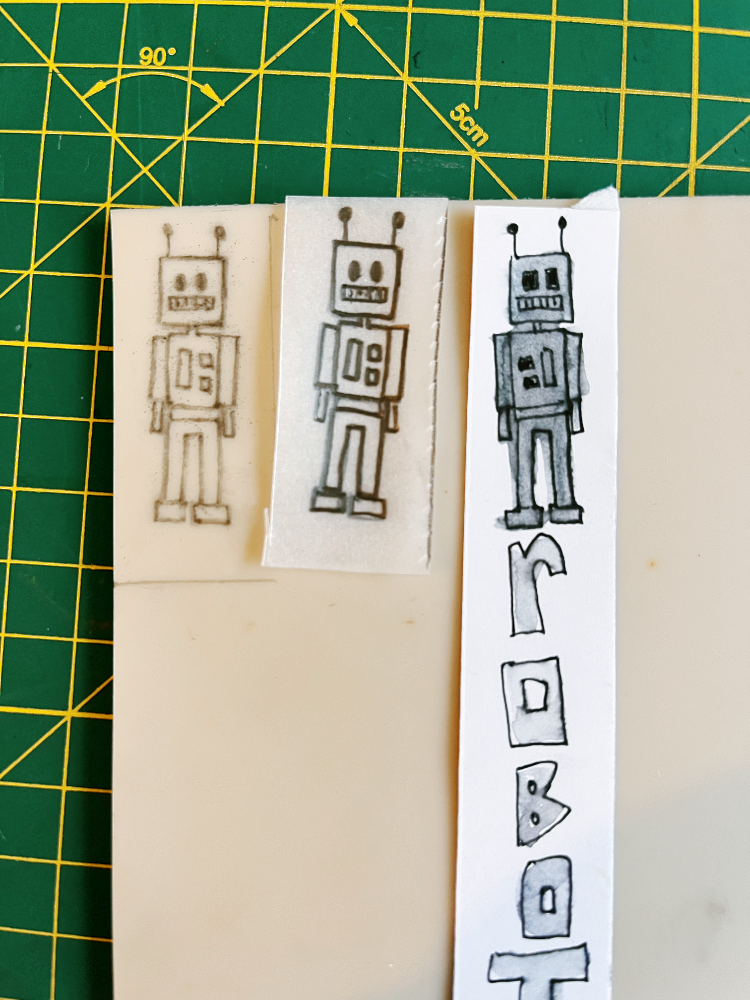 Here you can see the transferred image on the lino block.
Then, it was down to the carving! Personally, I don't really like soft cut Lino, but I understand it is a good block for carving little stamps – I will have to try using some regular battleship grey Lino to compare! To say this is fiddly process is an understatement! I really enjoyed the challenge though, and it came out slightly wonky and definitely questionable in places. But overall it looks like a robot – so I am happy!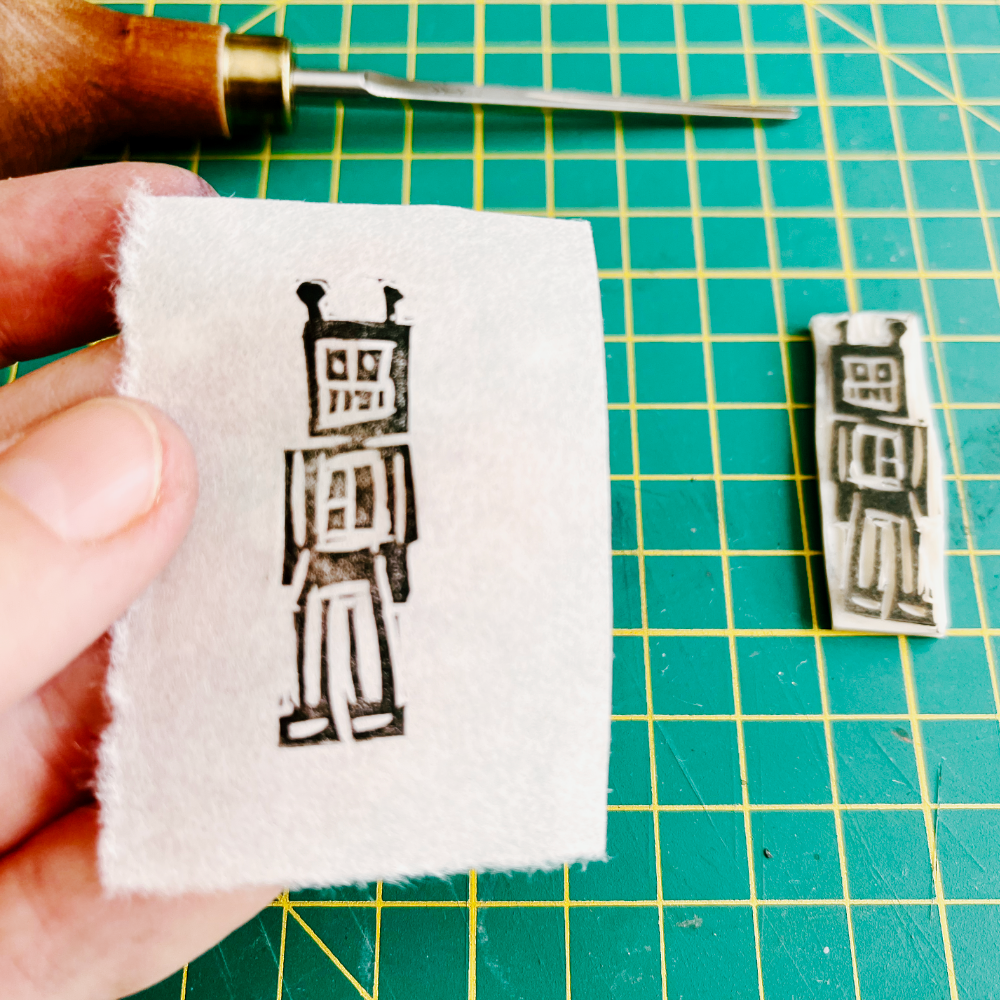 The first tiny print Tuesday print in all it's out-of-focus glory!
Once posted to Instagram, it was great to look at what other people were posting too – there are some absolutely incredible printmakers out there. Their far superior efforts will not put me off though, as we all have to start somewhere, right?! I will use the hashtag and challenge for inspiration, rather than let comparison steal my fun! It will be really interesting to see where this leads; at the very least I will have a lovely little collection of tiny prints, and I am sure I will improve my carving and printing skills along the way. Hopefully, I will also overcome worrying about what to create, and just get on and create.
Materials used:
Tracing Paper
Pencil
Soft cut lino off cut
Cutting mat
Pfiel tools – L 12/1 and L 1/11
Basic Japanese 5 piece wood carving tools
Perspex inking plate
Small brayer
Scola Artprint black waterbased printing Ink
Whenzou paper
Overall, I am really pleased with the block/stamp and the print. I have used it a couple of times in my journal, so it is already useful! I have already carved my second block ahead of time, so will look forward to posting that to Instagram this week, and making my tiny prints a regular feature here on the blog!