Following on from a wonderful week of joining in with International Nature Journaling Week, I am thrilled to say I have continued into a second week!
I am continuing to nature journal in my cheap (50p!) Jackson's A6 studio sketchbook from Jackson's art supply shop – I think the paper is great for the price, and I don't feel pressured to make a pretty picture, so I think it really helps me just get on with sketching, rather than worrying about how it will look.
It has been a week filled with the wonderful colours, smells and sounds of June in full sunshine. I spotted two new birds in my garden, documented the changing cycle of our huge Eucalyptus Tree, and kept tabs on our hedgerows my little veg patch!
Week 2 Day 1 – Eucalyptus

We have an absolutely enormous Eucalyptus tree in our garden. I notice it sheds leaves all year round, but in batches… so I am trying to document it weekly to track this – is it seasonal, regular, or when there is dry weather (like now). There is a lot of new growth leaves, and so I guess once these come in, it sheds oiler ones to give energy to the new growth.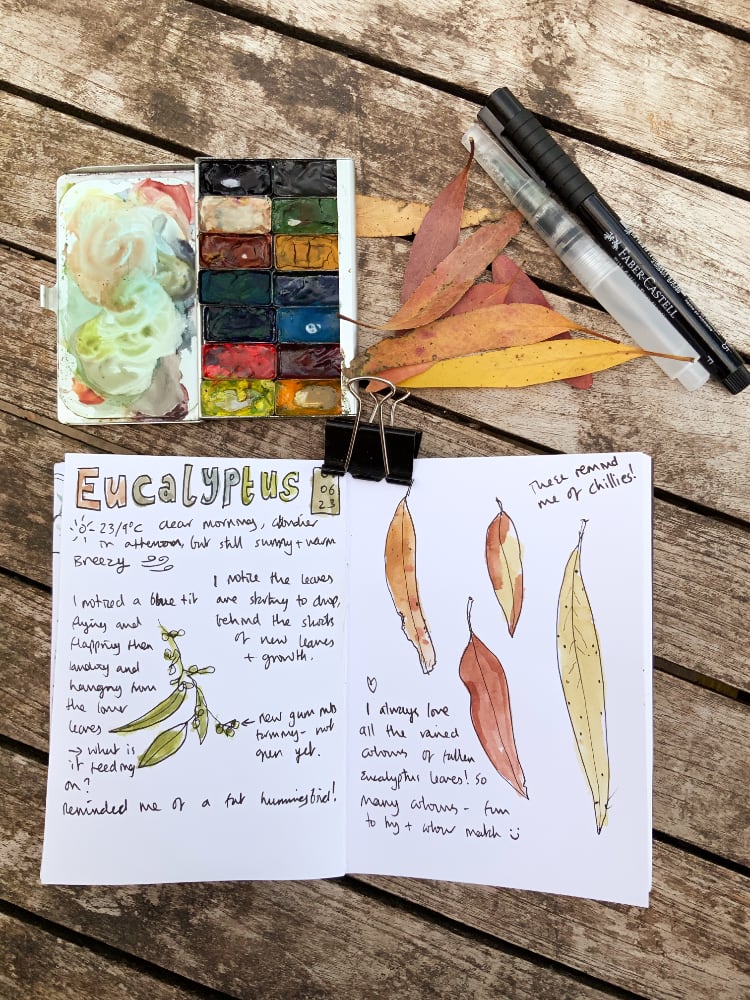 Week 2 Day 2 – Hedgerow
The weather is still hot and sunny, and the hedgerows are in full flower. I had a lovely walk with the dogs, really looking at the hedgerows along the sides of the fields, and saw Foxgloves, Honeysuckle, and the Elderflower trees bursting with blooms. It was fun to capture these back at home – all the pinks, purples, peaches and greens – summer is here!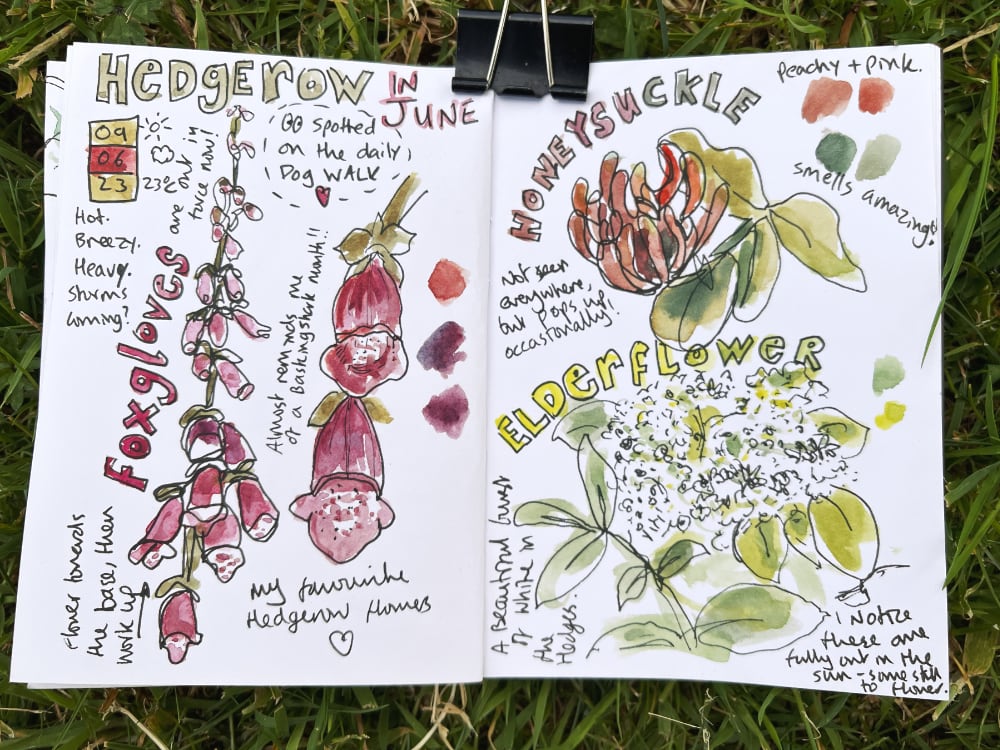 Week 2 Day 3 – Birds Spotted in the Garden
I filled our bird feeder up earlier in the week, so we have had a hive of activity from birds, which is lovely to see. I heard a massive fuss from some birds, which brought to my attention a small bird of prey swooping around in the garden, before landing on the Willow. I saw just enough of it to see that it was most likely a Sparrow Hawk, before it spotted me and flew off – hotly pursued by a flock of angry swallows! I am so thrilled to see such a beautiful bird in my garden, and it makes me feel good to know that the bird population around me must be very healthy to support such a magnificent bird! We have a lot of Buzzards in the area, but this is the first time I have seen a Sparrow Hawk in the garden.
Not only was I treated to the Sparrow Hawk sighting, but also a Eurasian Jay! I have never seen one of these in the garden either! It was hopping around on the ground, picking up dropped bits from the feeder! Another beautiful bird. Such a treat!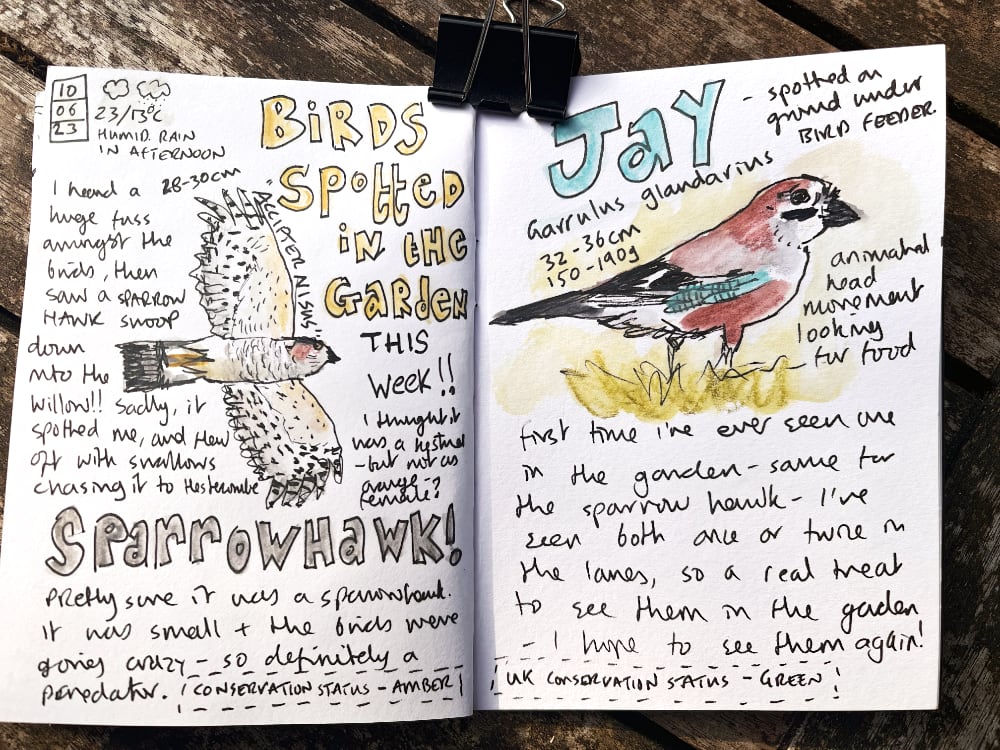 Week 2 Day 4 – Cabbage Palm
You can't walk outside into the garden right now, without being hit by the smell of the Cabbage Palm – I am not entirely sure I like it as it is so overpowering, plus i suffer from hay-fever and I am sure it is making me suffer! However, I can't help being impressed by the massiveness of the flower display, and the bees certainly seem to appreciate it!!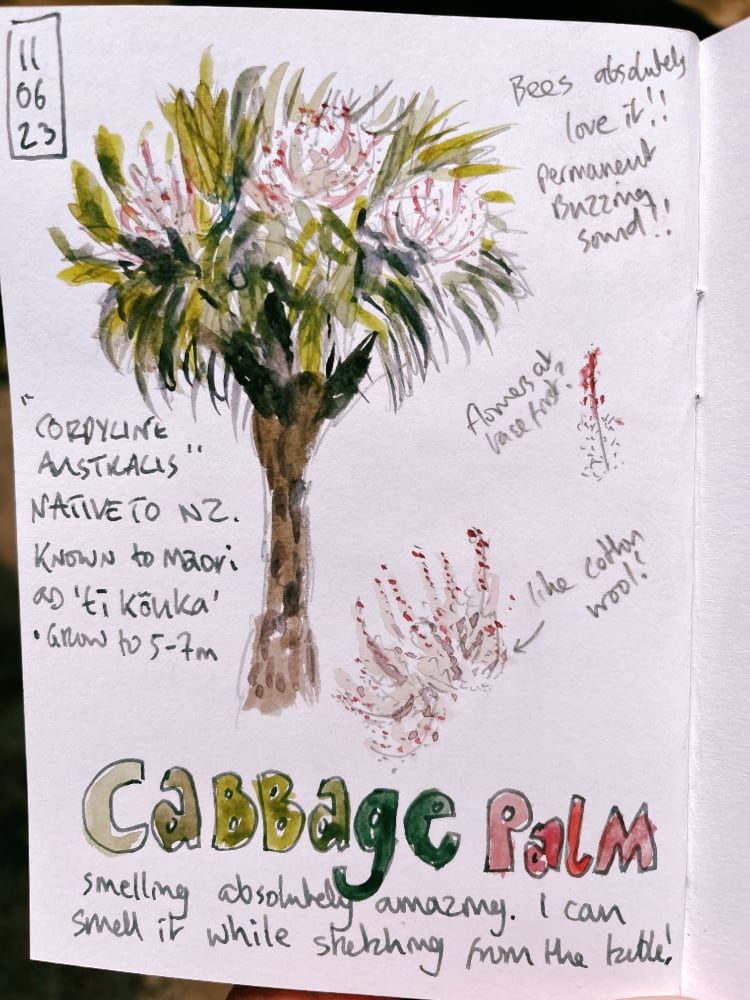 Week 2 Day 5 – Veg Patch
Moving over to the veg patch, which I am having to water daily at the moment as it is so dry – everything is really getting going. I planted out runner beans and sweetcorn in with the winter squash and courgette. I hope it all grows OK together, and that they have enough room. I beloieve this planting is known as the 'Three Sisters' and North American Native Indians used to use this method – the theory being that the squash covers the ground and suppresses weeds, and the beans can grow up the sweetcorn stalks, plus they all benefit eachother with attracting bees for poillination. I will watch this bed with interest!
Week 2 Day 6 – Oxeye Daisy
This is one of my favourite flowers – it comes up every year and never fails to impress me how tall and plentiful the flowers get! I noticed while drawing it how different the leaves are at the base compared to the top, which is the great thing about nature journaling – paying attention really leads to noticing more detail!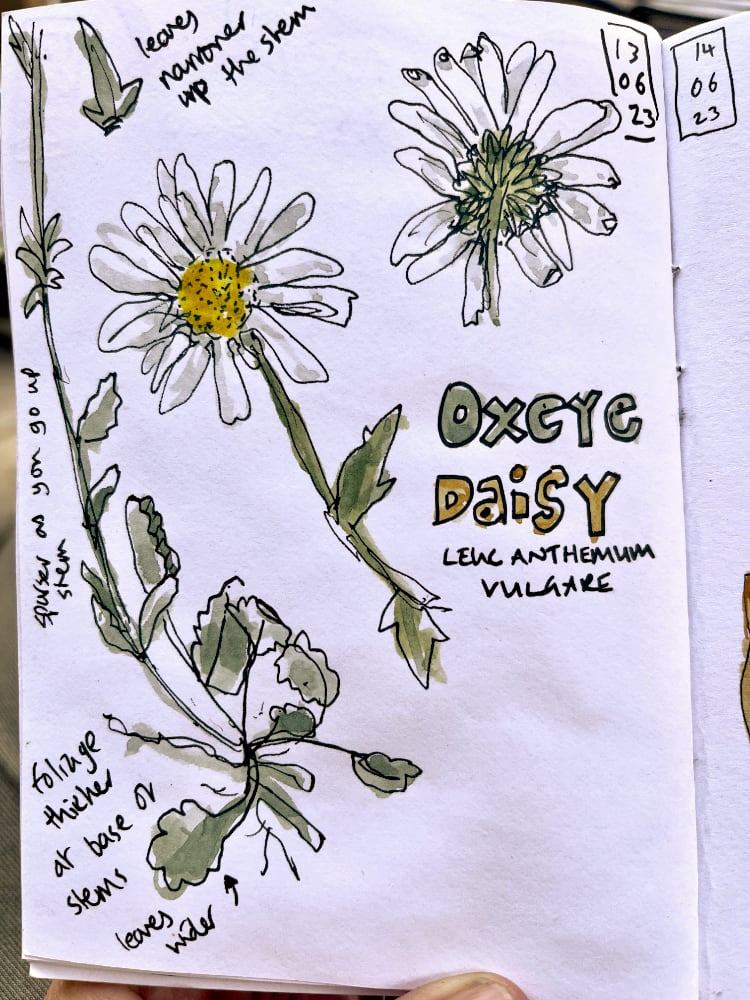 Week 2 Day 7 – Eucalyptus Again
The grass is now covered in Eucalyptus leaves. I don't know if this really hot, dry weather influences this, or if it happens on a regular cycle – but I am enjoying sketching the leaves as they fall. The colour variety is beautiful, and I had a lot of fun trying to colour match!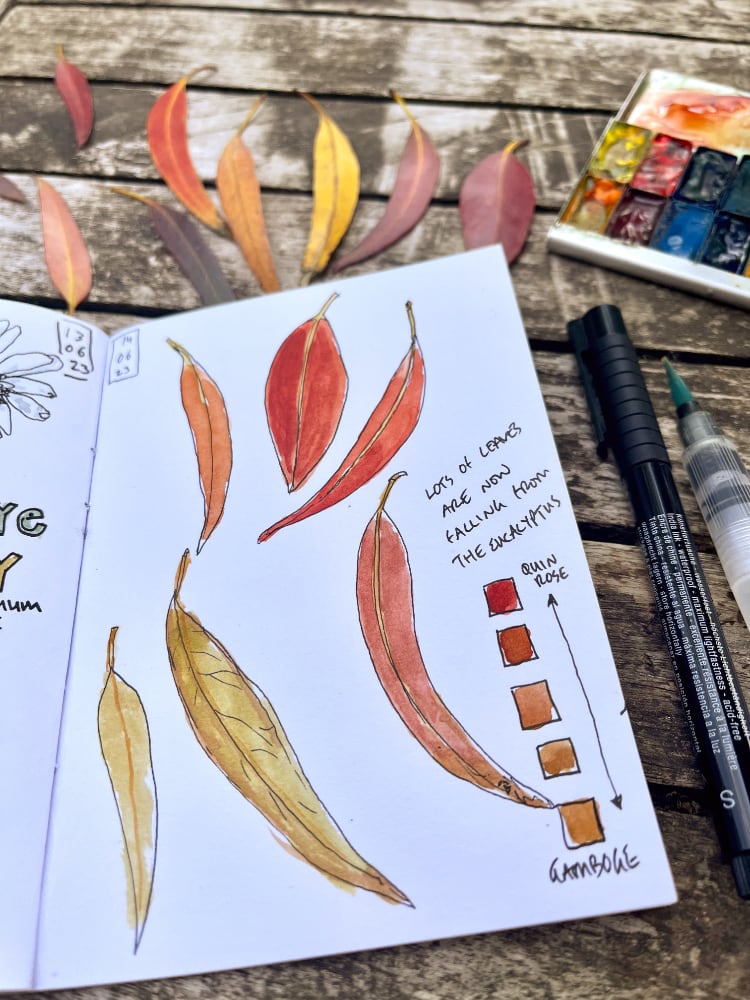 So that is another lovely week of nature journaling! Planning to keep this up every day for the rest of June, and see where it takes me. I have finished the small Jackson's sketchbook, so will move back into my A5 Stilman and Birn sketchbook, which I had been keeping as a Garden Journal. Since I am mostly nature journaling from the garden, this seems to fit fine, and it will be good to finish a current sketchbook rather than start a new one.
Nature Journaling Toolkit
If you are interested to know what I have been using in this small nature journal sketchbook, I have kept it really simple and light.
Sketch Kit
Jackson's A6 softback studio sketchbook
Faber Castell 2B pencil
Faber Castell Pitt Artist Pen Fineliner
Art Toolkit Pocket Palette
Waterbrush
That's it – nice and simple!