I have started to really enjoy being part of a Virtual Travel group at Sketchbook Skool. Every week, a new destination is set, and so far I have traveled to Jerusalem, Santiago, Antarctica and Ålesund!
It's really nice to be in a little community of other sketchers that are all travelling virtually to the same destination, and sketching their own versions of the place. I love looking at the group's feed in the Skoolyard (a Mighty Networks group for Sketchbook Skool members) to see where people have been 'visiting' and what they have been up to. I always learn a little bit more about the destination, and find it inspiring too!
Santiago – Chile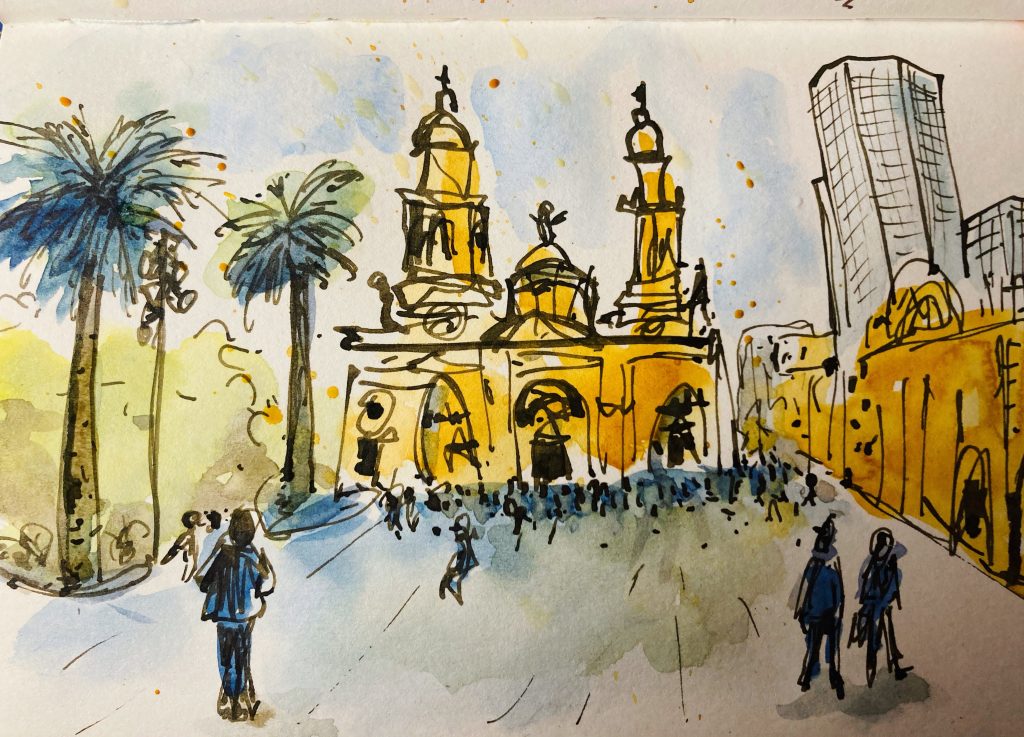 First stop in May, was Santiago, Chile! I started using Google street view for this scene, which although is still sketching from a photograph, I feel a bit more control in choosing the composition and view point at least! it also gives a feel of actually visiting the place as you can have a proper 360° look around, and pick and choose from lots of user uploaded location pictures.
I sketched this with my new Sailor Fude de Mannen fountain pen which gives a really nice variation in line due to it having a bent nib. You can adjust the tilt of your pen to make fine or thick lines, which I really like. They are also pretty cheap at around £20 for the pen and a converter cartridge.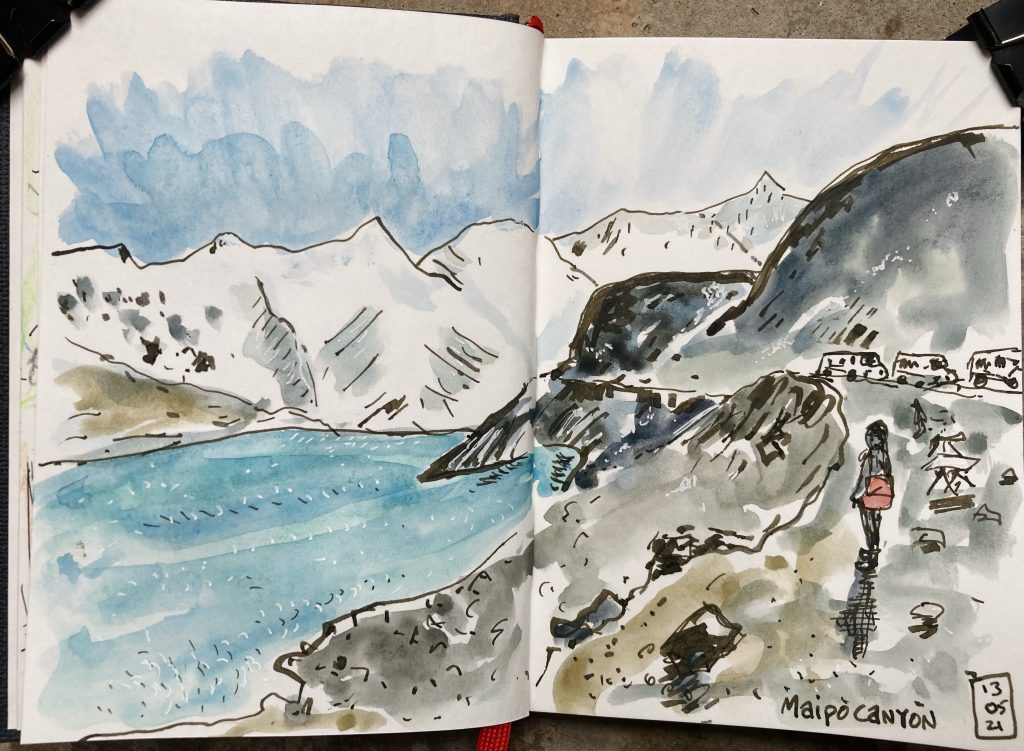 Looking online at places to visit whilst in Santiago, showed quite a few trips out to Maipo Valley, which is in the mountains and home to many vineyards! I found this view of Maipo Canyon on street view, and liked how it incorporated some tour buses and a person, against the stunning backdrop of the water and mountains beyond.
Antarctica
Next stop – Antarctica! This was a really fascinating week, looking at the stations on Antarctica and the wildlife there. I had a very busy week with work, so wasn't able to sketch as much of this amazing place as I would have liked, but none the less it was a good week, and I learned a bit about the place too!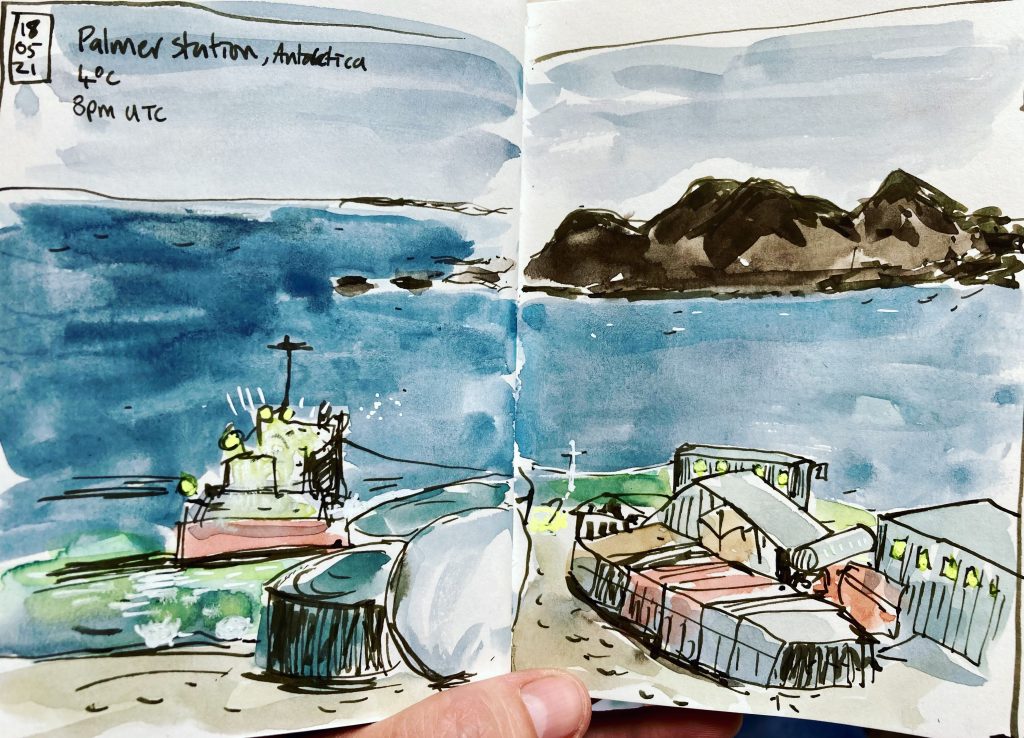 I sketched Palmer Station from their live webcam, just as the light was fading, which was fun as it gave me a sense of a time limit to complete the sketch. Capturing the lights on the boat and the buildings was a challenge, and I think I should have made the sea and sky darker to highlight that more. Still, a fun sketch to make!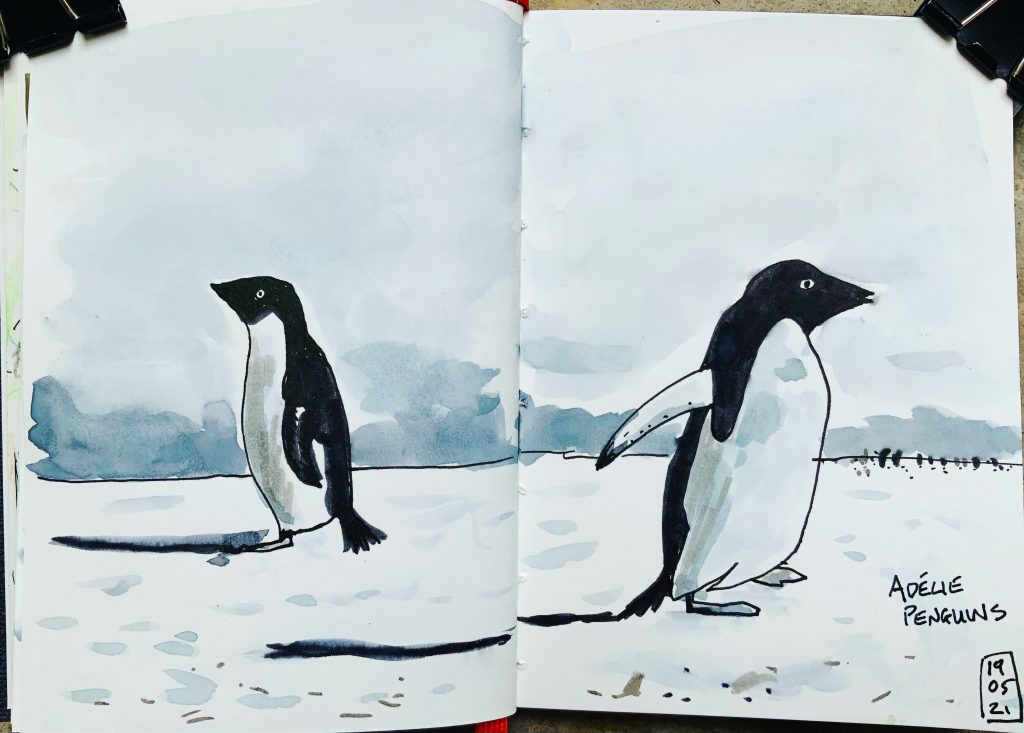 Near to Palmer Station is Torgersen Island, home to a large colony of Adèlie penguins. So I had to sketch these cute birds 🙂 I enjoyed capturing these as quickly as I could, as if i were sketching them from life. It was also interesting trying to render the snow in the foreground, along with the dramatic sky and penguins on the distant horizon.
Ålesund, Norway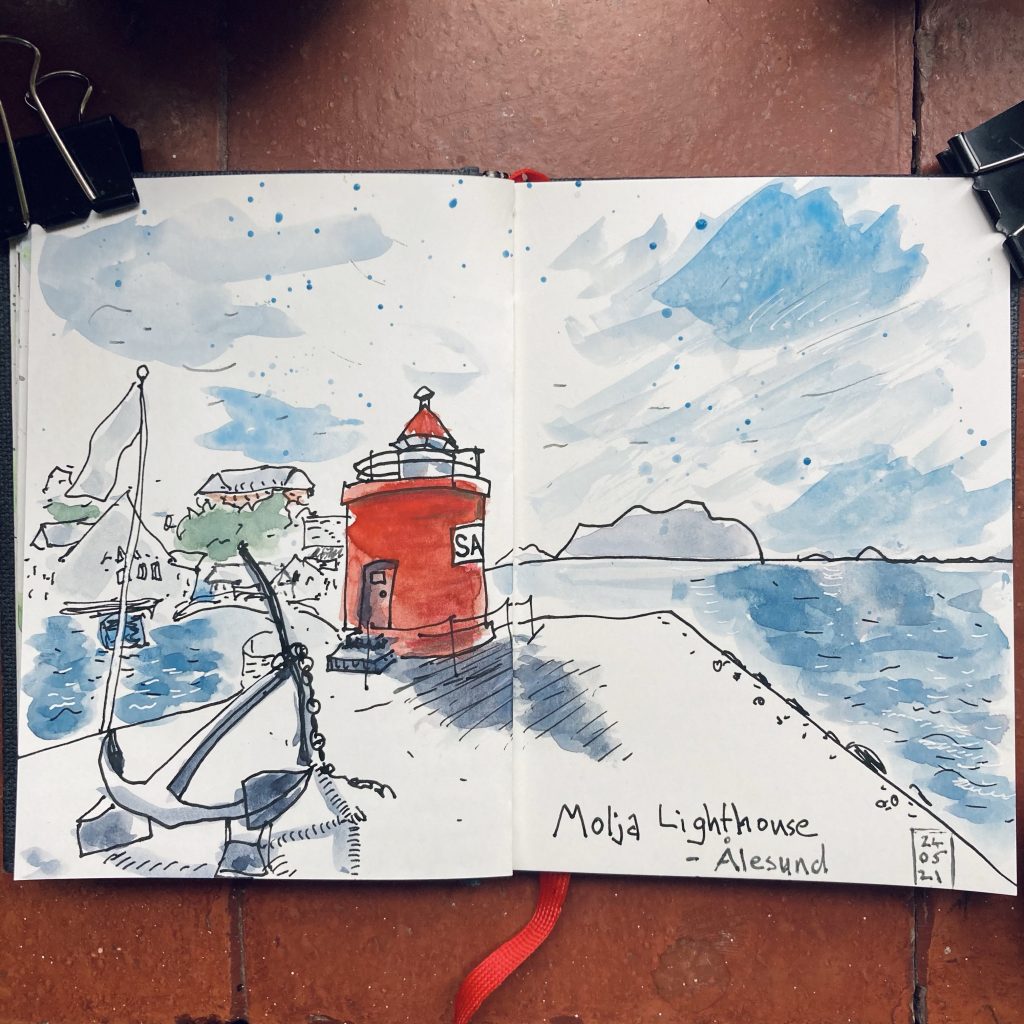 What a beautiful place Ålesund is! I'd never heard of it before, so it was great to explore in google maps to see the amazing landscape it sits in jutting out into the Atlantic.
The city was destroyed by fire in 1904, and rebuilt in the Art Nouveau style. I really liked this lighthouse and anchor with a hint of the buildings and mountains beyond, giving it a sense of place on the Atlantic. Apparently you can stay in this lighthouse as a hotel room too!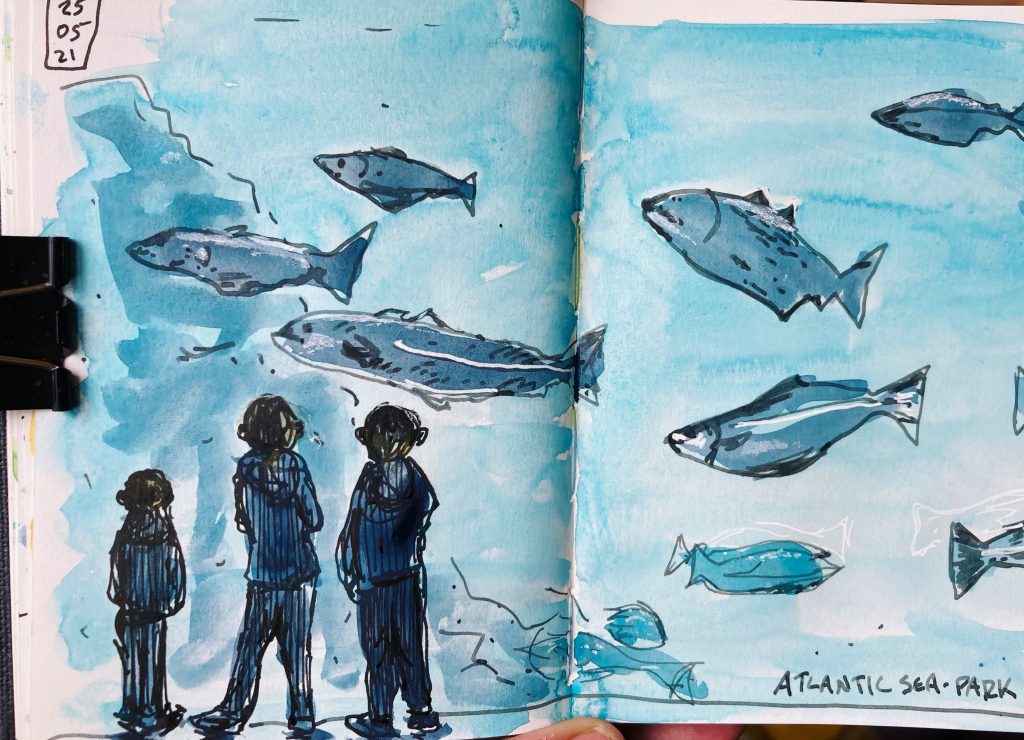 Looking for places to go, I spotted the Atlantic Sea Park, and had fun looking through photos on google maps, and edited this view slightly to include my three boys! I would have had to take them to this place, as we all love the underwater world!
This rounded off a great month of virtual travel, and I am looking forward to seeing where June will take me! I believe the first stop is Hong Kong!