This week sees the 4th year of International Nature Journaling week, run by the lovely Bethan Burton, from the Journaling with Nature podcast.
This year, the week will take us on a 'Sensory Safari', having us pay attention to our sensory experiences of the natural world. Each day has a theme, to help guide our focus.
Day 1 – Colour
Day 2 – Texture
Day 3 – Aroma
Day 4 – Song
Day 5 – Flavour
Day 6 – Movement
Day 7 – Heart
Head over to the Nature Journaling website, to get more information about each day – there are lots of links to resources, and even some live (and recorded) workshops to help inspire and guide us!
Nature Journaling Week – Day One: Colour
For day one, I was really excited to be heading out on a day trip to the North Somerset coastline, about a 40 minute drive from my home. The plan was to take my boys fossil hunting at Kilve Beach, then head to Watchet for some lunch.
We arrived at Kilve, and I was really struck by the beautiful and rugged landscape, but underwhelmed by the grey tones – not the best location for my day of 'colour'!. However, looking a little closer in at the rock pools, I was delighted to see the intense greens and reds of the seaweed!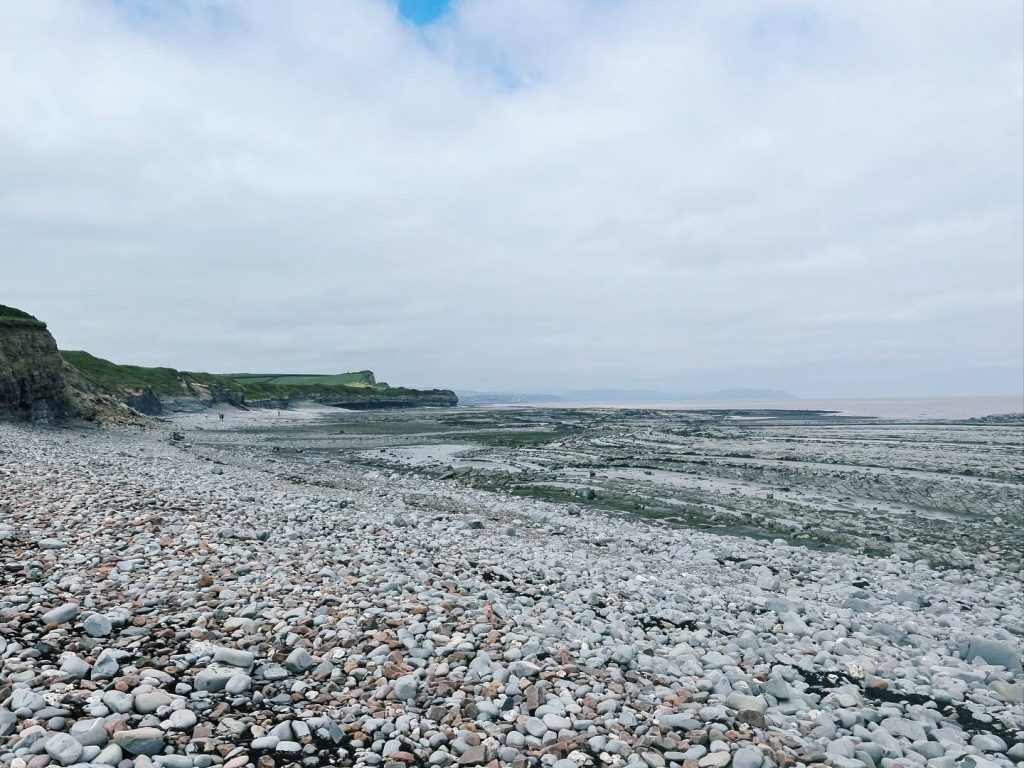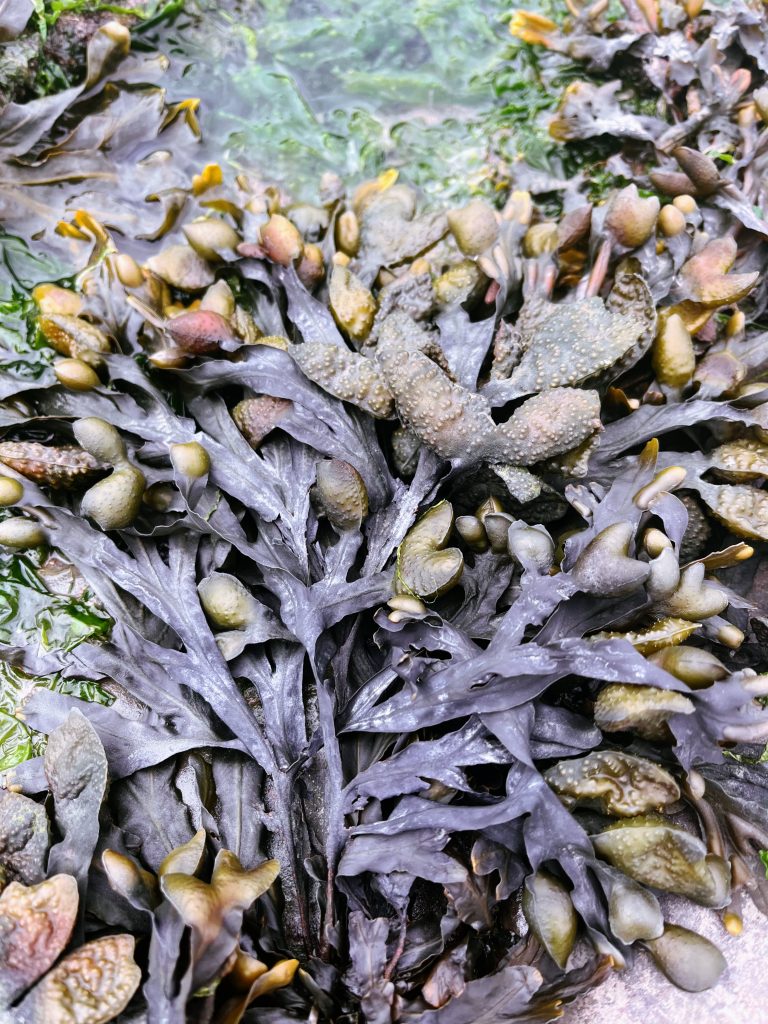 Nature Journal – Field Sketch Kit
I had taken a really limited set of art supplies, and a tiny softcover sketchbook, but was determined to get a sketch on location (one of my goals this year is to do this much more frequently!).
Sketching on location requires a flexible and small, lightweight kit.
I recently bought a lovely compact pencil case by Lihit Lab (link to amazon). Which comfortably fits some essentials, including:
3-4 colour pencils – I have three Derwent Graphitint colour pencils, and a couple of luminance pencils.
A couple of fine liners (I like Faber Castell fineliners)
Pencil
Fountain pen
Brush pen
Waterbrush
small tin of watercolours
I plan to write more about this set in a future post, so watch this space!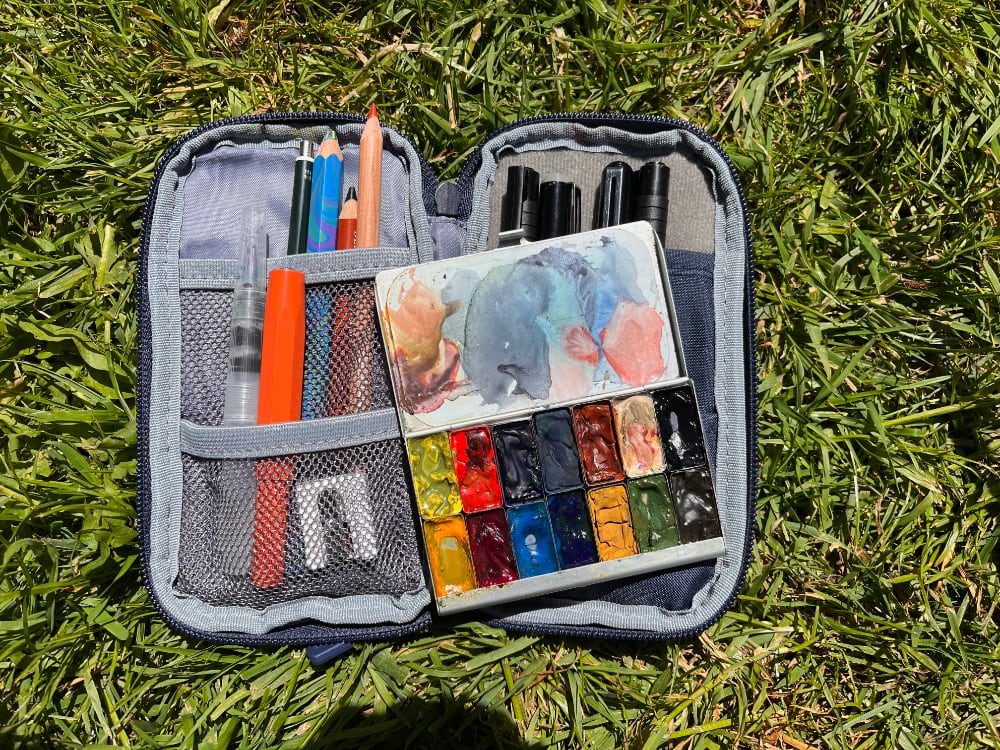 It was great fun trying to capture the scene on location – I really tried to focus on the process and enjoy it, rather than worry about making a pretty picture! I think the cheap sketchbook, and limited supplies helped me with this, as I couldn't fuss or be precious! This is a tactic I will use more over the summer, for my nature journaling and on location sketching.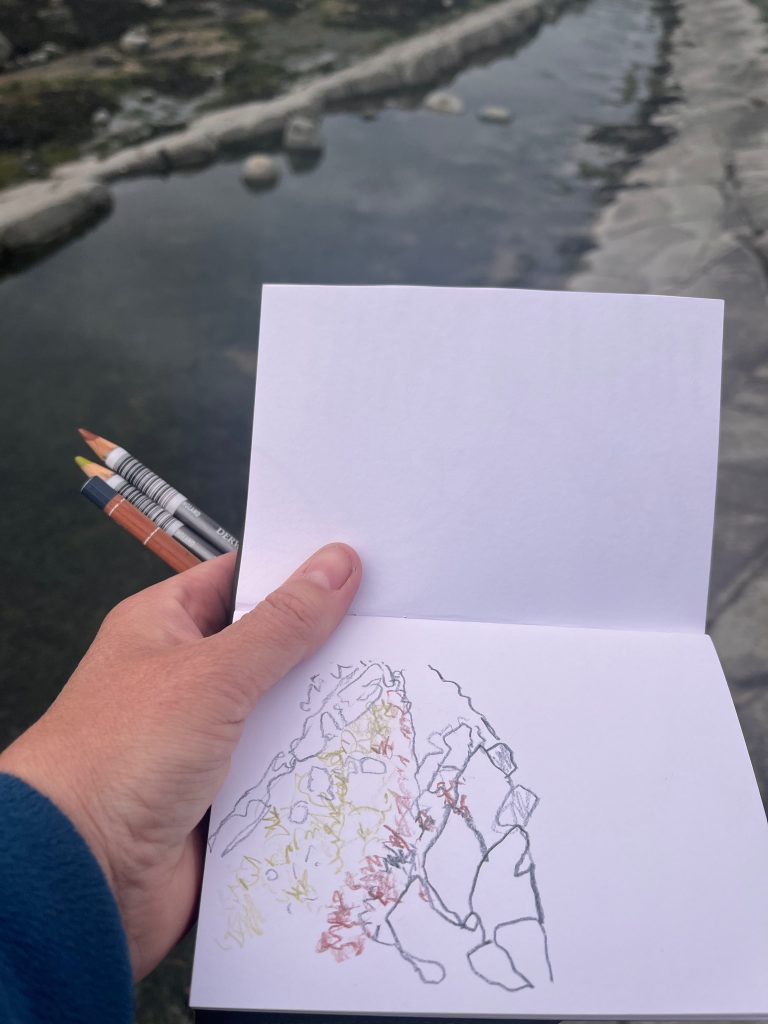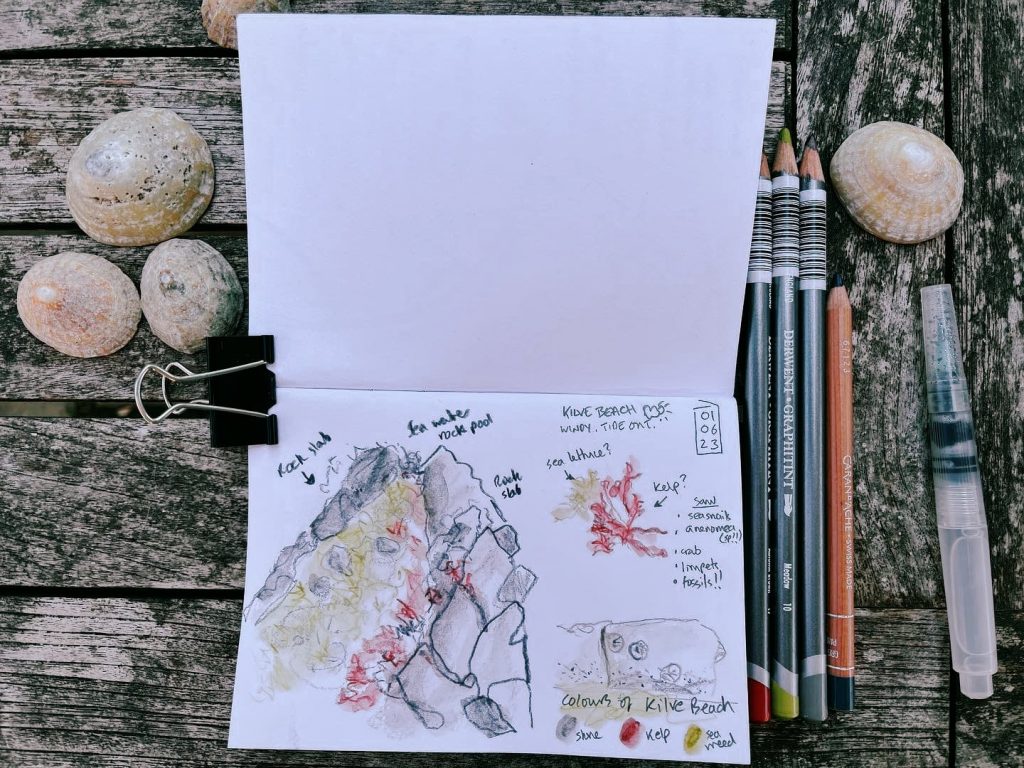 Nature Journaling Week – Day Two: Texture
For day two, we were to look at textures. Having a day at home, I sat in my garden to think about what to sketch, but noticed the Limpet shells my son and I had brought back from our trip to Kilve Beach, and decided these would be a lovely follow up from day one!
The texture of the shells was rough over the ridges, but the sea had also smoothed these ridges down, and they were really smooth on the inside. I tried to capture the bumps of the ridges and growth lines with my linework and also making sure I added shadow areas from the string sunlight.
It was tricky to capture the exact pale yellow with the paint selection I had, but remembered not to get hung up on recreating an exact copy – the aim was to capture the essence and texture of the shells, recording them in my nature journal.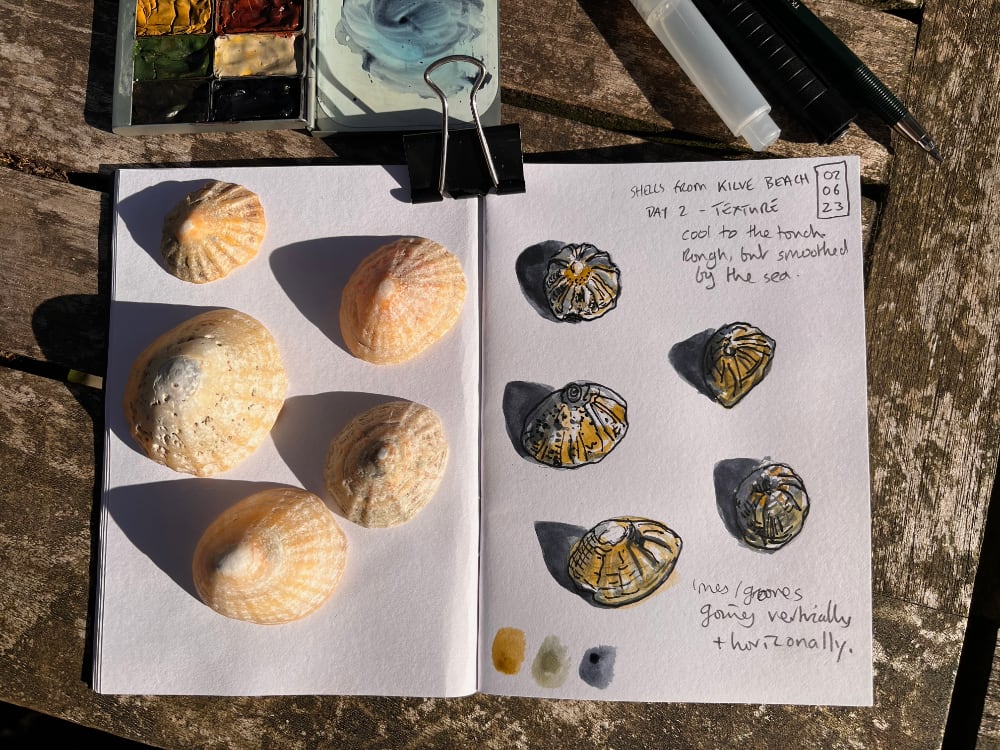 I am looking forward to the rest of Nature Journaling Week, and will aim to post my sketches for the rest of the week as I go along!
Happy sketching!